Universal Probe TPO-Series
Universal Probe

TPO-Series

Universal probes for narrow pitch applications are available in sizes of φ0.06 mm and up.
We are capable of manufacturing them at low costs due to integrated in-house production from the coil material stage to straightening, grinding, and plating.
Integrated in-house production enables us to respond to various orders with optimal lot sizes.
Specifications
Material
SWP-A(Music Wire)
* Insulation (upon your request)・・・Fluorine Resin Coating
Tip Shape

S
Sharp

B
Ball Point

Q
Hemisphere

D
Dome
Tip Angle(example)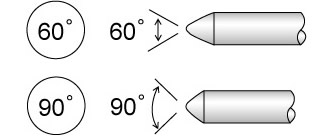 * We will be flexible to your requirements on tip angle.


Product Code