Wire Probe TPW-Series
Wire Probe

TPW-Series
Features of Tulip Wire Probes
1) Stable Tip Shape
By utilizing know-how in grinding attained over a long period of time, Tulip wire probes keep stable tip shapes even when used on thin materials.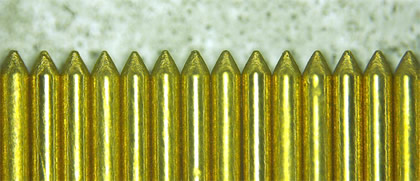 φ70μm,60degree Ball Point
2) Precise Insulation Coating
Change of the insulation coating of Tulip wire probe.

Sprayed Coating

Spray coating causes stability issues in film thickness and precision of coating position.

Electrodeposition Coating

In order to solve the stability issues, Tulip adopts in-house electrodeposition coating instead of spray coating.

Improvement of accuracy of edge

Higher precision is being pursued by inventing finer probes.Increased positional accuracy and clear edges are realized in coating.
Present Style of Tulip Wire Probe

Tip Shape

60B
60degree Ball Point
*

T
Chisel

Q
Hemisphere

F
Flat
* Available for requested angle and tip diameter.
Coating color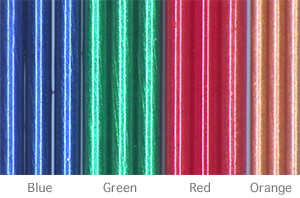 Characteristics:In the case of Tungsten
0.11 x 30
0.09 x 30
0.07 x 30
0.05 x 20
0.04 x 20
Material :
Re-W
0.03 x 20
Material :
Re-W
0.108
0.088
0.068
0.048
0.038
0.028
Product Code